Here's a fun little sample of how you 'do' it.. given, you need to be able to get Quicksilver (the grey Q bulb in the upper right)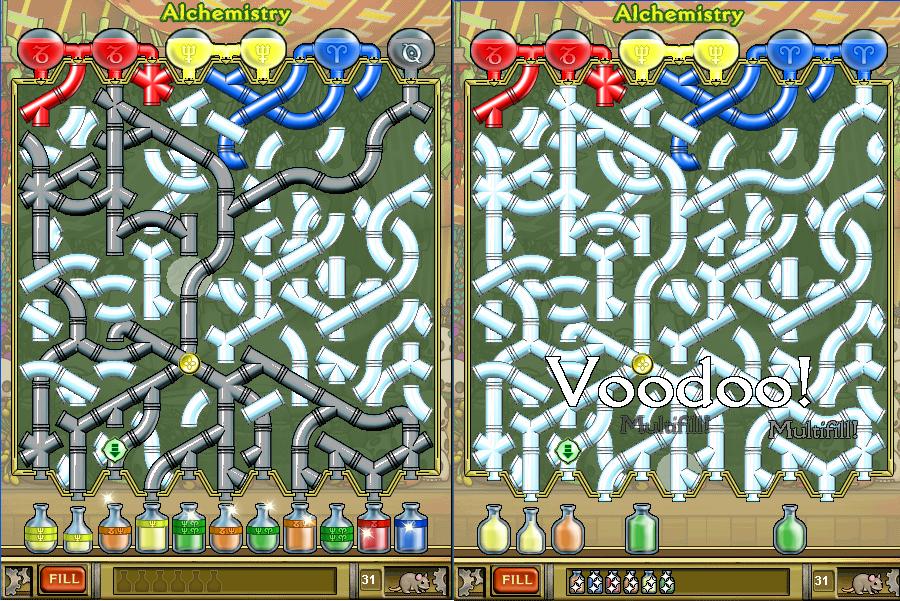 As a rundown:
fill about 2 bottles per turn, always.. either doubles, or two colors..
Preferably, choose one color that is at the bottom of the most # of bottles, and do that one, and then see if you can add another color in somewhere..
Rinse and repeat.
If you've gotten up to getting quicksilver.. soon as one shows up try and 'save' it.
leave ONE bottle with 2 color-layers left.. (same or different) and run the final color (or color blend for green/orange/purple) through the quicksilver...
NOW you've (hopefully) got a nice row of 11 bottles, with only ONE color left in each. Quicksilver is EVERY color at once, so fill AS MANY bottles as you can (with preference for glowy/star bottles)
in this case... the multifill is used to get the three double-layer/same-color bottles... doing a multifill counts as an extra 'bottle' layer... so out of 11 bottles, the puzzle sees it as *14* bottles being filled at once.
The gold, adds more points or often as I see it another 'glow/star' to the bottle.. and a large # of fills, adds stars...so that's why the couple of single-glows, suddenly becomes 4 triple-glow and 2 doubles...1 for the gold coin, 1 for the huge # of 'fills' and the three-glows from the single-glows originally
Yes, this did net an INCREDIBLE.
Feel free to ask me in PP if you have any questions